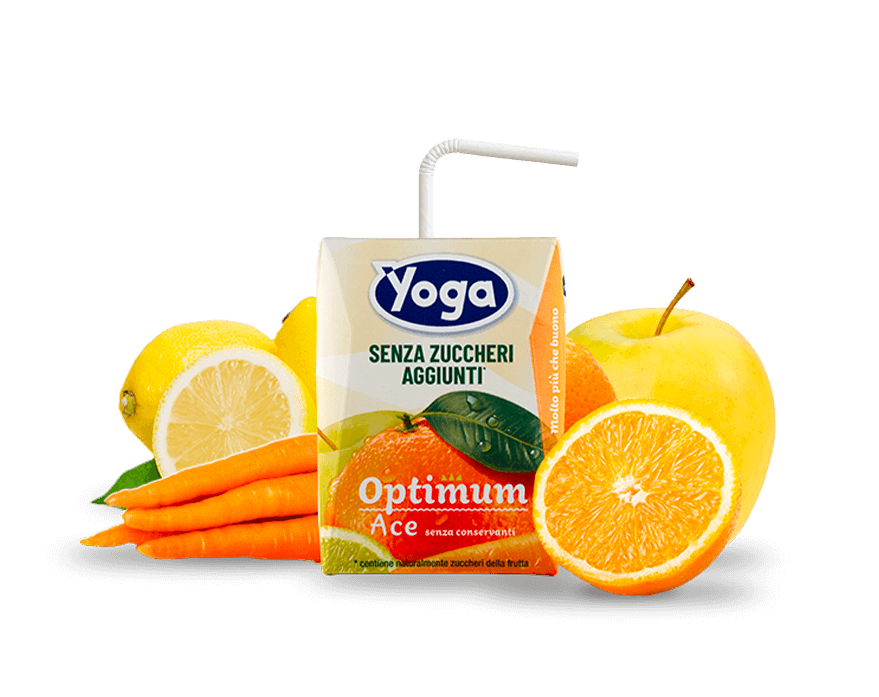 Optimum range without added sugars
200 ml box
ACE
no added sugars
Discover other flavours
Only the natural sweetness of Italian fruit and a vitamin boost in 200ml. So good, so nutritious.
Ingredients
Juices from concentrate (apple 60%, orange 20%, carrot 5% and lemon 5%),water, natural aromas, vitamins: C, E e beta-carotene. Gluten-free.
Nutritional information
(Typical values per 100 ml)
Energy

162 kJ - 38 kcal

Fats

of which saturates

0,1 g

0,0 g

Carbohydrates

of which sugars

8,6 g

8,6 g

Fibre

0,1 g

Protein

0,2 g

Salt

0,02 g

Vitamin C

16,0 mg

Vitamin E

2,4 mg

Vitamin A

183 µg

Beta-carotene

1,1 mg
From italian plantations with all of Yoga's experience
Yoga Optimum no added sugars ACE contains no less than 90% fruit with Oranges, Carrots and Lemons picked when perfectly ripe. It is a healthy, tasty juice, a source of essential fibre for your body, packed with the fruit's own natural vitamin C and E. A light and vibrant blend of juices to be enjoyed at any time of day. Prepared with experience and passion for the most popular Yoga juices, picked by mums for their kids.