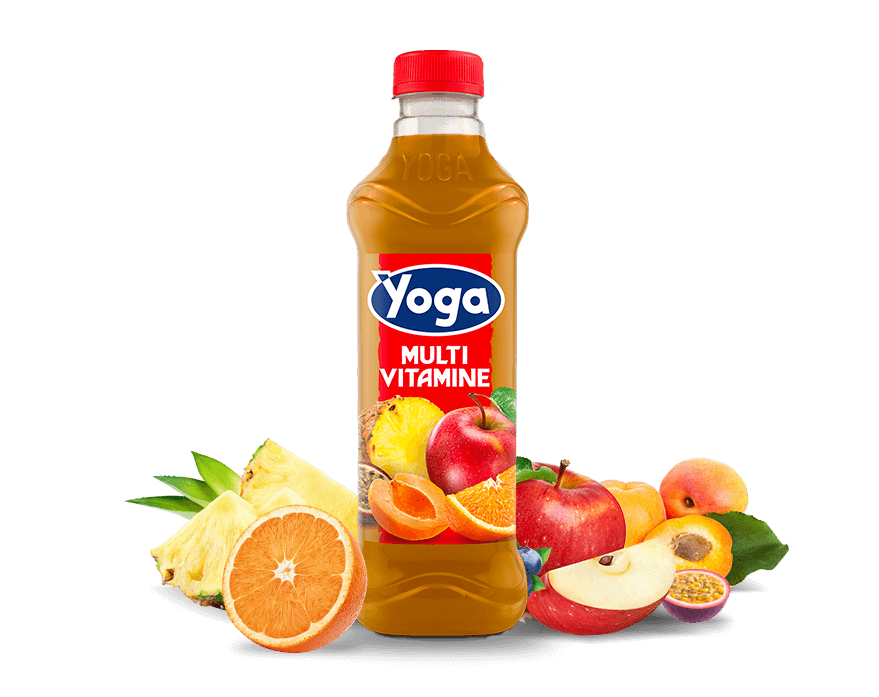 Classic
Classic range - 1L PET bottle
Multivitamin
Discover other flavours
Packed with selected fruits by Yoga for a boost of vitamins, in the richest juice in the range.
Ingredients
Juices from concentrate and fruit purées 50% (apple, apricot, orange, pineapple, maracujá), water, sugar, glucose-fructose syrup, acidifier: citric acid, aromas, vitamins: C, niacine, E, A (from beta carotene), B6, riboflavin, thiamine, folic acid, biotin. Gluten-free.
Nutritional information
(Typical values per 100 ml)
Energy

220 kJ / 52 kcal

Fats

of which saturates

0,0 g

0,0 g

Carbohydrates

of which sugars

12,1 g

12,1 g

Fibre

0,4 g

Protein

0,2 g

Salt

0,0 g

Vitamin C

12,0 mg

Niacin

1,20 mg

Vitamin E

0,90 mg

Vitamin A

67 µg

Vitamin B6

0,11 mg

Riboflavin

0,11 mg

Thiamine

0,09 mg

Folic acid

15,0 µg

Biotin

3,75 µg

Beta Carotene

0,40 mg
9 vitamins in each sip
The 1L Yoga multivitamin juice is a unique mix of nutrients ideal for your diet, a nectar of fruit balanced with experience to offer a boost of energy and vitality at any time of day. It contains vitamin C, E, A, B6, Niacin, Riboflavin, Biotin, Folic acid and Thiamine, necessary for the bodily wellbeing of all the family. In a transparent PET bottle, it's practical, lightweight and easy to drink at home or on the go.