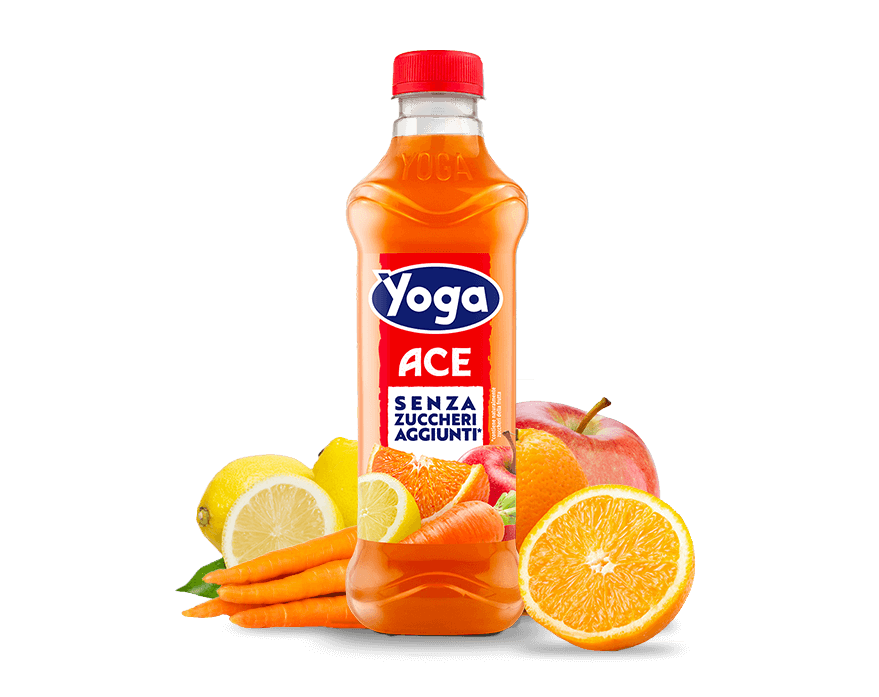 Optimum range without added sugars
1L PET Bottle
ACE
no added sugars
Discover other flavours
Only the natural sweetness of Italian fruit and a vitamin boost in a family format. Goodness and nutrients in every sip.
Ingredients
Succhi da concentrato di (mela 60%, arancia 20%, carota 5% e limone 5%), acqua, aromi naturali, vitamine: C, E e beta-carotene. Senza glutine.
Nutritional information
(Typical values per 100 ml)
Energy

162 kJ - 38 kcal

Fats

of which saturates

0,1 g

0,0 g

Carbohydrates

of which sugars

8,6 g

8,6 g

Fibre

0,1 g

Protein

0,2 g

Salt

0,02 g

Vitamin C

16,0 mg

Vitamin E

2,4 mg

Vitamin A

183 µg
See what you drink
Yoga Optimum ACE no added sugars contains no less than 90% fruit, Oranges, Carrots and Lemons from the best plantations. A healthy, tasty juice, a source of essential fibre for the body, rich in vitamin C and E. A natural multivitamin that is satisfyingly light and vibrant for any time of day, prepared with Yoga's experience and passion, for the whole family.